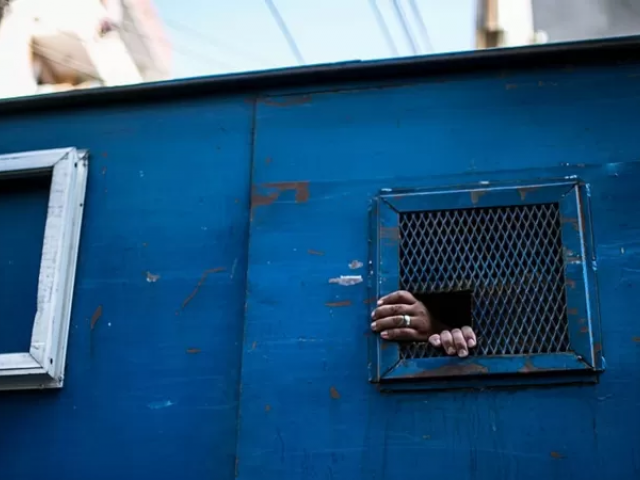 After his third acquittal: Fears that Ahmed Sabri Nassef will be rotated on a new case for the fourth time
Press Release
16 February 2023
The Egyptian Initiative for Personal Rights (EIPR) calls on the Ministry of the Interior, represented by the National Security Sector, to abide by the law, and respect the court ruling issued on Tuesday acquitting Ahmed Sabry Ali Nassef, in Al-Shorouk felonies Case No. 6231 of 2022, registered under No. 1592 of 2022 in New Cairo. EIPR appeals to the Prosecutor General Counselor Hamada El-Sawy to intervene to prevent the re-filing of charges against Nassef, and to ensure the implementation of the ruling, for fear of detaining him again outside the framework of the law and being re-accused and remanded in custody.
On February 14, 2023, EIPR lawyers obtained a third acquittal against Ahmed Sabry Ali Nassef, who completed his sixth year of detention in pretrial detention last January. Over the past six years, Nassef has been accused of joining a terrorist group and possession of ammunition (one gunshot in the latter case), despite not being confronted with any real evidence against him. Despite obtaining more than one acquittal, he continued to be imprisoned pending more than one case and was accused of the same charges.
Nassef's suffering began on January 18, 2017, after he was arrested from his home - he was 18 years old at the time. He was detained for 31 days in an unknown location before he was presented to the Public Prosecution office for investigation in State Security Case No. 148 of 2017. Despite the issuance of an order for his release on March 19, 2019 - that is, after he exceeded the maximum limit of pre-trial detention stipulated by law - he was illegally detained for 27 days in the police station, after which he was transferred to an unknown location again. After that, he was brought before the State Security Prosecution for investigation in case No. 750 of 2019 and continued to be held in custody for a period of two years and three months, in violation of the law. Despite a decision to release him on September 26, 2021, he remains unofficially detained.
On October 31, 2021, Nassef appeared before the Public Prosecution for investigation pending a new case, Al-Marj felonies No. 34009 of 2021. On April 17, 2022, he was acquitted of all charges against him by the Criminal Court, and in a flagrant defiance of the judicial rulings, the implementation of the ruling of his release was ignored and he was held in detention outside the framework of the law. Then he appeared again on May 24, 2022 in Al-Zawiya Al-Hamra Misdemeanor No. 447 of 2022. On September 21, 2022, he obtained the second acquittal verdict. However, this did not prevent the National Security Sector from resubmitting him again to the Al-Shorouk Prosecution Office on November 21, 2022, for investigation in Case No. 6231 of 2022, in which the verdict was issued today for his acquittal for the third time.
It should be noted that fears of Nassef being detained again and charged again are not only because of what has been going on with him since 2017, but also because of the  pattern used on others of being recharged despite the issuance of a number of acquittal rulings in their favor, as is the case with Samer al-Dasouki, who, despite obtaining last month, the third acquittal verdict, is still imprisoned under the pretext of being re-investigated on similar charges pending a fourth case.
EIPR stresses that it would not be logical to file new charges against a person who has spent the past six years in detention unlawfully, in addition to the absence of any justification for the continuation of Nassef's imprisonment, especially since with the issuance of today's verdict, he is no longer wanted in connection with any other cases. He must be released, and therefore EIPR reiterates that the continued detention of Nassef is a crime of abstention from executing a sentence and illegal detention, which is punishable by law under Articles 123 and 280 of the Egyptian Penal Code.