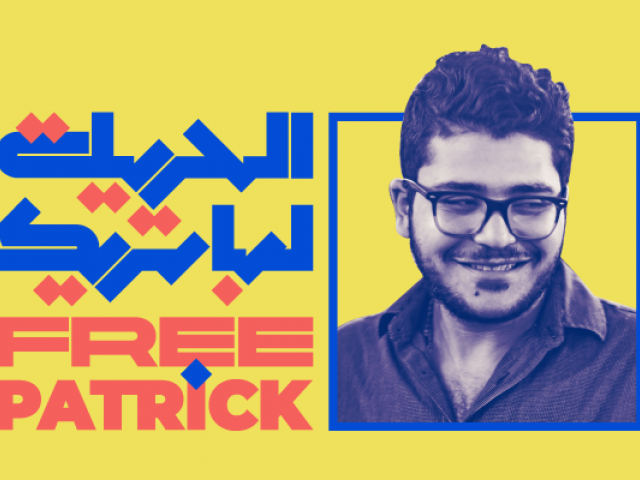 Patrick Zaki's detention renewal was postponed until July 1
Press Release
1 July 2020
Once again the prison administration failed to transfer Patrick Zaki citing a force majeure event. Patrick was scheduled for a detention renewal session on Sunday June 28 that was meant to take place for the first time before a Criminal Court panel from a counter-terrorism circuit, which sits at the Tora Subofficers Training Institute. But once again we saw a repeat of what has become the norm over the last three months, following the April 28 decision by the head of the Cairo Appellate Court to resume detention renewal sessions without the presence of defendants in criminal cases, and even after the staggered return of all courts, including higher courts and civil circuits, to session throughout the month of June. Patrick and most defendants in State Security cases are still denied the right to stand before their prosecutors or judges when deciding on custody extension.
Patrick Zaki, who has been in remand custody for more than four months in relation to an ongoing investigation in Supreme State Security Investigations Case 1766/2019, has had his custody renewed for most of this period without his presence or even the presence of his legal counsel. That was due to administrative postponement during the months of March and April or on account of renewal orders for 15 extra days, issued since the beginning of May in court sessions that were officially sanctioned to take place without presence of defendants or legal representation.
We were hoping that Patrick would be released when the authority to look into his custody is transferred to a Criminal Court judiciary panel, after the expiration of the five months period during which State Security Prosecution has sole discretion over the renewal of pretrial and remand custody in accordance with Art 206 of the Criminal Procedure Code.  But the criminal court panel decided on Sunday to postpone the decision on Patrick and other defendants who were not transferred to court from Tora prison for two more weeks, precisely because of their absence which could undermine the legality of any decision to renew their detention.
It is worth noting that visitations in prisons and places of detention are still suspended since March 10, per the decision of the Ministry of Interior which was one of the very first measures taken by the government to combat the Covid19 pandemic. Since that date, Patrick's family -- as is the case for the families of all other prisoners and detainees in other prisons in Egypt -- have not been able to visit him, but the prison administration has allowed them to send him food and some personal hygiene supplies.
While reaffirming the fundamental right of defendants in State Security Prosecution cases, consistent with the rights afforded to all other defendants in criminal and civil cases, to legal representation and to be present and defend themselves during custody renewal sessions. And emphasising that any decision issued without the defendants' presence nor that of their lawyers could render the decision illegal. We also want to restate our demand to the Chief Public Prosecutor to take the decision we at EIPR and civil society have been calling for since the beginning of the Covid19 pandemic crisis, per the legal authority afforded to him in Art 204 of the CPC to release any defendant in an ongoing investigation; and since these exceptional circumstances are ongoing and prison administrations still refuse to transfer prisoners particularly in State Security Prosecution cases. That is, to release Patrick and all remand detainees, particularly those who are most susceptible to the Covid19 disease, including those who are above 60 years of age and those who are suffering from respiratory diseases, diabetes, immune diseases and other chronic ailments and conditions that elevate the risks associated with Covid19.