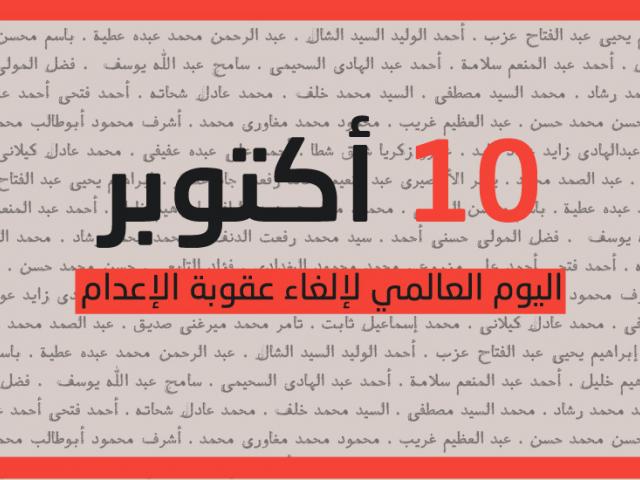 On the World Day Against the Death Penalty: Rights groups call upon the Egyptian government to sign and ratify the Second Optional Protocol to the International Covenant on Civil and Political Rights, which aims to abolish the death penalty
Press Release
10 October 2017
On the 15th World Day Against the Death Penalty, Eight Egyptian rights groups demanded that the Egyptian adhere to the safeguards guaranteeing the protection of the rights of those facing the death penalty and sign and ratify the Second Optional Protocol to the International Covenant on Civil and Political Rights, which aims to abolish the death penalty. Last year, the same groups demanded the government to suspend the implementation of the death penalty, at least temporarily, "given the recent record of human rights abuses, politicized trials and the ease with which Egyptian courts have been issuing lengthy prison terms and death sentences in recent times."
Since last October, at least 34 people were handed final death sentences in eight cases, seven of which were tried before civilian courts while one other case was handled by a military court, regarding charges that relate to cases of political nature and to allegations of terrorism.
The signatory rights organizations assert that, although Egypt has not joined the optional protocol concerning the death penalty, which places an obligation on all member parties to halt the implementation of death sentences within its jurisdiction, it is nonetheless bound by Article 6 of the International Covenant on Civil and Political Rights (which Egypt ratified in 1982), the first two paragraphs of which state:
1. Every human being has the inherent right to life. This right shall be protected by law. No one shall be arbitrarily deprived of his life.
2. In countries which have not abolished the death penalty, sentence of death may be imposed only for the most serious crimes in accordance with the law in force at the time of the commission of the crime and not contrary to the provisions of the present Covenant and to the Convention on the Prevention and Punishment of the Crime of Genocide. This penalty can only be carried out pursuant to a final judgement rendered by a competent court.
The signatory organizations appeal to political parties and members of parliament to initiate a discussion aiming to diminish the the number of crimes that are potentially punishable by death. Egyptian legislation currently contains 42 articles that can carry a death penalty if the relevant court determines definitively that the person has committed the stated crime. Of those 42 articles, 14 are in the penal code, 4 in the anti-narcotics law, 23 in military law, and 11 in the counterterrorism law.
The signatory organizations warn that the most recent amendments to the criminal procedures code that were ratified on April 27, 2017 will expedite court procedures related to the administration of the death penalty. Before the amendments were made, it was possible for the Court of Cassation to annul a verdict by a criminal court and order a retrial in front of a different court. If the new criminal court issued a verdict, the defendants were entitled to appeal the ruling a second time in front of the Court Cassation, and, in that ensuing appeal, the Court of Cassation would review the case itself and issue a final verdict. However, the April amendments change the process so that a case is viewed only once in front of a criminal court and once in front of the Court of Cassation before the verdict becomes final.  
Signatories:
Adalah Center for Rights & Freedoms "ACRF"
Against the Death Penalty
Al Nadeem Center for Rehabilitation of Victims of Violence and torture
Association for Freedom of Thought and Expression
Hisham Mubarak Law Center
The Egyptian Commission for Rights and Freedoms
The Egyptian Initiative for Personal Rights
No to Military Trials for Civilians