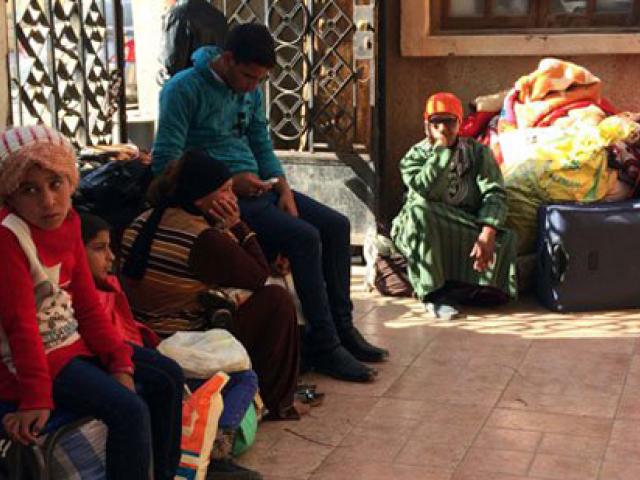 EIPR: The state must arrange for the immediate transfer of students to equivalent schools and universities and put in place plans to return or compensate those displaced
Press Release
24 September 2017
The Egyptian Initiative for Personal Rights has criticized the authorities' handling of the case of Coptic students who were forcibly displaced from al-Arish in North Sinai last February. The students left al-Arish following attacks in which a number of Coptic Christians were killed and their residences and property destroyed. According to the EIPR, the Egyptian authorities asked the guardians of secondary school students to apply for transfer requests and obtain their children's school files in al-Arish, before submitting them in their current place of residence. Christian students at al-Arish's private Sinai University, who number approximately 80, were instructed by the university's administration to return to their studies in Arish, to take up residence in ordinary student housing and to pay tuition fees beyond their financial means, with no regard to the life-threatening risks they face there. These students are unable to arrange transfers to universities outside of the North Sinai governorate.
During the crisis, the Ministry of Education announced that Coptic pupils would be permitted to attend schools at their current place of residence without official paperwork. Efforts were also undertaken to transfer university students to Suez Canal University, provide them with student accommodation on campus, and offer other forms of support. Sinai University, meanwhile, sent a faculty member once a week to the university's second campus in the city of al-Qantara to assist students completing their studies there.
EIPR has received a number of complaints from guardians that the government has turned a blind eye to their cases. They say the financial support they have been offered is insufficient, barely covering their basic needs, and feel their children's academic future is uncertain. Several schools have asked parents to return to al-Arish to obtain their children's school files or submit new transfer requests, whilst some university administrations have told university students they must continue the academic year in al-Arish and reside in the city at their own risk.
The EIPR believes that intervention by the government and universities during the crisis was provoked by the media uproar created by the displaced families. The authorities concerned do not seem to appreciate the magnitude of the problem, and lack any plans to handle its longer-term consequences. The official handling of the situation has confirmed fears outlined in the EIPR's report "Declared Dead: an analysis of the murder and forced displacement of al-Arish's Copts." The families concerned do not know how long they will have to stay in their current places of residence, and it remains to be seen whether or not the government will develop an alternative strategy to remedy the underlying issues which forced them to leave al-Arish and improve the living conditions of its Coptic residents, or content itself with providing small apartments and furniture to those affected.
The EIPR renews its call for authorities to implement a clear and adequate plan, with a clearly defined timeframe, to secure the protection of displaced people who wish to return to al-Arish and to aid those who wish to remain in the locations they have transferred to by guaranteeing decent living standards and offering opportunities for employment. The government must also provide adequate compensation for those who wish to abandon their properties in al-Arish. The EIPR also calls on the ministries of education and higher education to form a committee to facilitate mid-year transfers for university students, and to arrange for the automatic transfer of students' administrative files rather than requiring students and their families to return to al-Arish in person.
For further information, see the EIPR's report "Declared Dead: an analysis of the murder and forced displacement of al-Arish's Copts" (Arabic):
 
Testimonies from students and their families:
A pharmacy student who currently residents in the Tama district of Sohag said, "We spent a term in different colleges. I was transferred to Suez Canal University. But we then found out that we had to go back this year, even though they told us when we left al-Arish that we could only return once the security situation was settled, when in reality there is no talk of change in the security situation whatsoever."
 
"There were courses in subjects we were required to take during the summer term, but unfortunately we didn't know that they were only offered in al-Arish. Now we don't know where we'll be when the academic year begins. Personally, I'm afraid to go back to al-Arish, but at the same time, I don't know what to do about my future."
A Sinai University IT student's mother said, "The dean said that [my son] has to go back to al-Arish, but of course we're scared. I tried to transfer him to a private university, but we were told he would have to start from scratch in the private system. My son is in his third year, so it would be a waste to make him start from the beginning. It would also be very expensive, as annual tuition fees can now be as much as LE25,000."
 
"The dean told my son: 'You've cost the university a lot, because professors had to volunteer to teach here during the crisis.' The professors are now refusing to go back and forth for another term, so someone needs to find a solution. The last year was exceptional because of the pressure exerted by the higher education minister, but this year the new minister hasn't done anything."
A media student who lives in Port Said said, "Throughout July, the head of the public relations department at the faculty of media in Arish called me on behalf of the dean saying, 'You need to find accommodation on campus because there are no more professors willing to teach at the campus in al-Qantara like last year.' This was despite the fact that they would only have had to come once a week and that I was happy to study there as long as I felt safe. Now I have to go back to al-Arish and live in dorms, and that's very expensive—the tuition fees alone are already a lot, and living on campus will cost more than the fees. It's almost LE11,000—where are we going to get this kind of money?"
"We were used to staying in the church dormitories, but we're too afraid to live in the church in al-Arish now. I've heard that there are Copts living there but they decided to wear headscarves, and I refuse to do that. I spent two years getting excellent grades, and my dream was to continue on to graduate studies and teaching. But unfortunately, transferring to another university would mean I'd have to start from the beginning, so I'm going to go back to al-Arish even though I'm scared to."
A pharmacy student currently living in the Ismailia governorate said, "They promised us that we wouldn't have to return to Arish until the [security] situation had improved, but we haven't heard of any change, or of any Christians returning to al-Arish. The options are all difficult. Living on campus is extremely expensive. Our only option is to go back to living in the church in al-Arish, and that's dangerous. What are we meant to do? They promised us they would ease the transfer process, but that was a year ago and it hasn't happened. The second campus in al-Qantara provided professors to teach us for the second term of last year, but this year they said that the faculty of pharmacy is still new and that there isn't fourth-year provision at the Qantara branch, so we'll need to go back to al-Arish."
A mother of a primary school student said, "This year, the school administration is refusing to issue transfer documents from al-Arish to Ismailia, they say we need to go and get the paperwork ourselves. How are we supposed to go to al-Arish when we'd be in danger, as Copts? I had to give power of attorney to contacts in al-Arish to get the documents, but the process hasn't gotten anywhere. We also want to know if fees will be waived for displaced families who left al-Arish and now live in Ismailia, because costs are high and we've lost our incomes because we worked in freelance professions."