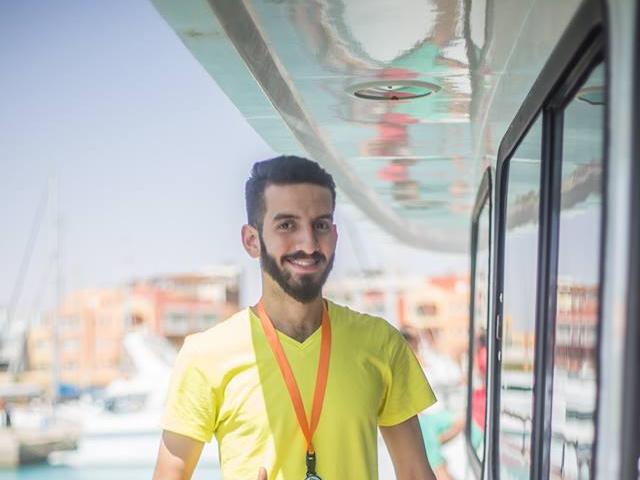 The family of the student leader, Moaz Al-Sharqawi, demands the Public Prosecutor to reveal his detention place
Press Release
12 May 2023
The family of the former student leader and political prisoner Moaz Najah Mansour Al-Sharqawi filed a complaint to the Public Prosecutor's Office, requesting an investigation into the incident of Moaz's re-arrest yesterday and the immediate disclosure of his place of detention.
According to the complaint No. 402994 Petitions, the family knew that a security force went to Moaz's house in the Mokattam, around 2:00 pm yesterday, Thursday, May 11, 2023, and arrested him after warning the neighbors not to interfere, then they took him to an unknown destination.
Moaz Al-Sharqawi had been subjected to prolonged imprisonment before, due to his previous activity as a leader of Tanta University Student Union. He was arrested in September 2018 at a police point on Sharm El-Sheikh Road while going about his business as a tour organizer. He had been illegally detained and forcibly disappeared for 25 days, during which he was tortured. Then, he was interrogated pending case No. 440 of 2018. Al-Sharqawi's pre-trial detention continued for about a year and a half before being released in 2020. In August 2021, He was referred to the Emergency State Security Criminal Court.
In May 2022, the Emergency State Security Criminal Court issued a non-appealable verdict against Moaz Al-Sharqawi to 10 years in prison on charges of joining a terrorist group, in Case No. 440 of 2018, registered under No. 1059 of 2021. The case includes 24 other defendants, among them the former presidential candidate and head of the Strong Egypt Party, Abdel Moneim Aboul Fotouh, and his deputy, Mohamed El Qassas. It is to be noted that the verdict issued against Moaz on May 29, 2022 is not final or enforceable. The Egyptian Initiative for Personal Rights, in its capacity as the representative of Moaz, filed a grievance at the military ruler against the verdict that has not been ratified yet.
For more information about the violations that marred the trial, see the EIPR report: (Conviction without Evidence: The Unfair Trial of Abu Al-Fotouh, Al-Qassas, and Moaz Al-Sharqawi)