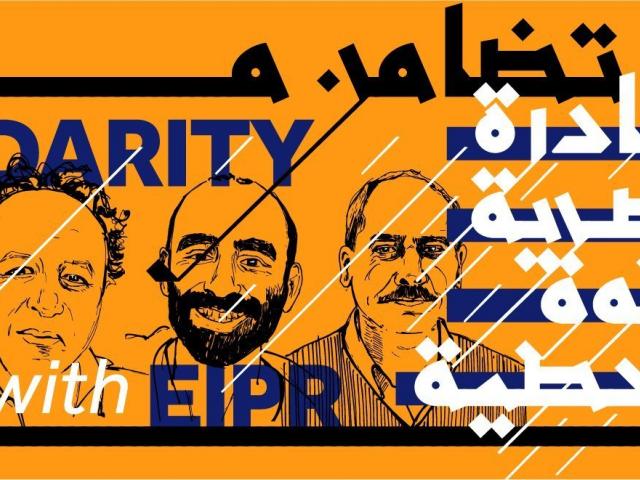 A year since the security attack on the Egyptian Initiative for Personal Rights: The fabricated accusations continue, along with the travel ban and the seizure of the funds of the three directors of EIPR
Press Release
15 November 2021
Today, a full year has passed since the start of the unprecedented security attack on the Egyptian Initiative for Personal Rights, which saw the arrest, within one week, of its executive director, Gasser Abdel Razek, its managing director, Mohamed Bashir, and the director of the criminal justice unit at EIPR, Karim Ennara, from 15 to 19 November 2020, before releasing them all on December 3.
On this occasion, EIPR renews its demands to drop the fabricated charges brought by the Supreme State Security Prosecution without basis or evidence against its leaders, and to close the investigation into this alleged case, as well ending the unjust punitive measures resulting from it preventing the three directors from traveling and seizing their money and personal property.
The Supreme State Security Prosecution had included the three directors of EIPR as defendants in Case No. 855 of 2020 and charged them with a range of accusations, including joining a terrorist group with knowledge of its purposes, broadcasting false news and statements that would disturb public security and harm public interest, and using a special account on the Internet to spread false news.
EIPR said today that all attempts by the its lawyer to challenge the decisions to prevent the three directors from traveling and accessing their money over the past year have failed so far, despite the appeals being submitted four months ago. The Supreme State Security Prosecution did not send the court a memorandum of the required information, which is the necessary procedure before setting a session before one of the criminal divisions of the Cairo Court of Appeal to consider the appeals. This means depriving the three directors even of the opportunity to resort to the judiciary to remedy the injustice against them, although the law gives the affected people an opportunity to challenge these precautionary measures at least once every three months.
The continued targeting of the three directors of EIPR with these arbitrary measures comes in a broader context of the security campaign and ongoing prosecutions against independent human rights organizations in general, which affected EIPR because of its activities in the field of defending human rights over the past 19 years since its foundation. Patrick George Zaki, a researcher with the Initiative, has been detained for nearly two years and is currently being tried before the Emergency State Security Court because of an article he published in 2019. EIPR is also still under investigation in Case No. 173 of 2011 known as the Civil Society Organization Funding Case, including the inclusion of the founder and director of the initiative, Hossam Bahgat, on the lists of people banned from traveling and seizing his money since 2016 until now. Bahgat is also currently on trial before the Economic Misdemeanors Court on charges of insulting the Election Commission and spreading false news in a case that is awaiting a verdict on November 29.