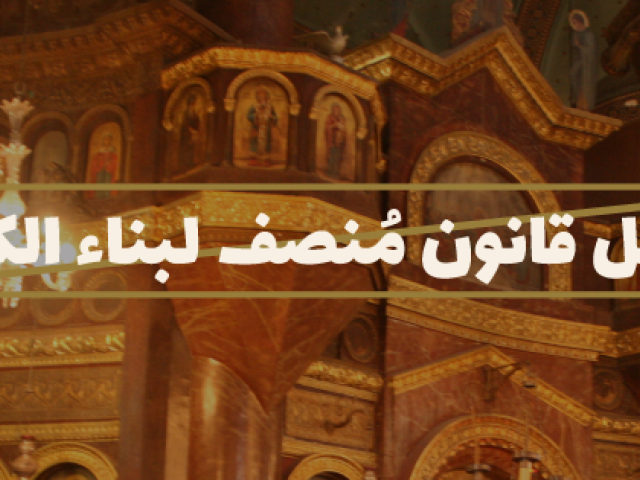 EIPR launches "Closed on Security Grounds" campaign to promote fair law for the construction of churches
Press Release
11 August 2016
The Ministry of Transitional Justice and Egyptian churches announced they had drafted a bill on church construction that would soon be issued and fulfill the terms of Article 235 of the constitution, which requires the parliament to issue a law regulating the construction and renovation of churches in its first legislative session to guarantee Christians' freedom of worship.
The construction and renovation of churches and other Christian religious structures is one of the principal drivers of sectarian tension and attacks in Egypt, which are manifested as violations of the freedom of belief and worship and associated constitutional rights.
The situation is particularly grave since these violations are perpetrated by state bodies and social groups and forces alike. The government continues to rely on Hamayouni Decree, issued in the mid-19th century, and the al-Ezabi Pasha codes dating to the early 20th century to regulate the construction of churches, which make building or renovating an existing church a arduous, complex process. These discriminatory policies have fostered a social culture that rejects the presence of new churches or the renovation of existing ones. In fact, recent weeks have seen several instances in which Copts' property was attacked in the wake of rumors that their homes would be converted into churches.
As part of efforts by the Egyptian Initiative for Personal Rights to promote freedom of religion and belief and associated rights—most significantly, to build and renovate churches and religious structures—it is launching a campaign titled "Closed on Security Grounds: for a Fair Law on Church Construction."
The campaign aims to familiarize the public with the problems involved in the construction and repair of churches, their causes, and the security and administrative bodies' treatment of the issue through a set of short films that tell real stories from several governorates about the injustices faced by Coptic citizens who attempt to practice their religious rites. The campaign also provides information about the most important decrees and court rulings associated with church construction, and it will sponsor activities and meetings with interested parties about the newly drafted bill.
The EIPR hopes through this campaign to help develop the awareness of officials, parliamentarians, and the media of the nature of the problem and how the authorities deal with it. At the same time, we hope to promote the issuance of a law that will uphold the right of freedom of belief to allow, rather than restrict, the construction of churches.
The campaign on Facebook
The campaign on Twitter